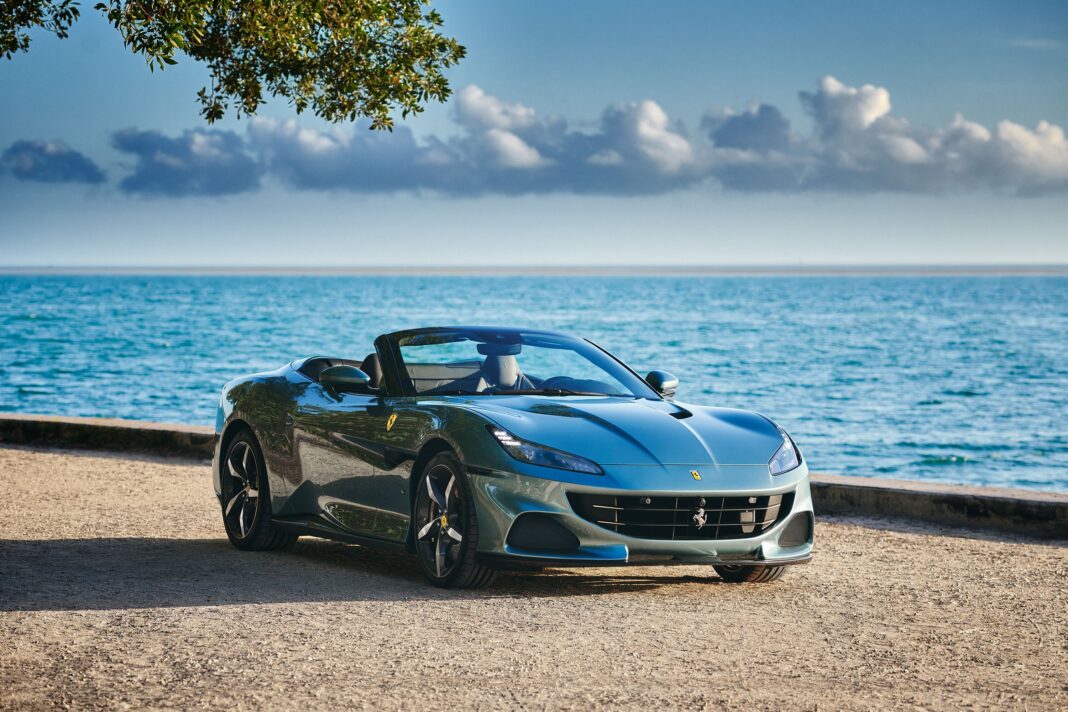 When the world closed, oceans seemed to grow. For most, traveling to foreign lands became almost impossible. Visiting our favorite people and places was no longer something we could do on a whim. Experiences captured on devices kept the memories fresh and the hope of normality alive. But with restrictions come opportunities to explore worlds closer to home. Opportunities for journeys of rediscovery.
So if we can't go anywhere exotic, then I'm going to bring exotic to the UK. This is the Ferrari, Portofino M, The Forgotten Ferrari. The Prancing Horse is an entry level supercar which has been upstaged by their new entry level supercar.
The Roma, and by pretty much everything else in the family but Ferrari have given this a new lease of life and they're calling it the Portofino M. So in case you're not aware, the Portofino is a coupe convertible. It has a retractable hardtop that can go up or down at speeds of up to 30 miles an hour and in as little as 14 seconds. So basically it's actually more suitable for the UK than for Italy. This is the perfect car for people who feel like they're trapped in a country where the weather can do pretty much anything and at any time.
The M stands for Modifica and in true Ferrari fashion, it's been tweaked for more aggression. Ordinarily to test that, we'd need a European playground. But today is the perfect opportunity to rediscover this baby Ferrari while rediscovering forgotten joys that are a little closer to home.
This will be right. Is there any way better to spank a twin turbocharged 3.9 liter Italian V8 than right here in Britain? The engine is very similar to the one they use in the standard Portofino, except it's been modified slightly. It has different CAM profiles and a different speed sensor on the turbos, so the turbos spin even faster. Now the engine makes a massive 620 horsepower torque is the same 760 Newton meters. But out here right now, I don't think I need any more than this. They've gotten rid of the old seven speed dual clutch box and replaced it with a new eight speed dual clutch box That's whip fast. These paddles feel super nice carbon fiber and it's so responsive it just cracks up and down the box almost as fast as you can think.
The lower ratios are closer together as well, which really helps with acceleration. So the car just takes off and in-gear acceleration is well, I mean, it's just lively. North of 62, it's done in 3.4 5 seconds. Go to 124 in 9.8, a second quicker than the previous Portofino. And if you keep your foot pinned, it'll keep going all the way up to 199 point something miles an hour. I don't know what the something is, but I don't think I want to find out today. The steering is typical Ferrari lively, fast, accurate and makes this car feel so responsive. There are other cars in this class, other gt's that feel a little bit more leaden in their responses compared to the Portofino M. But this thing feels a lot closer to a supercar. The balance on this car is great. It's actually sets up for a little bit of understeer. So if you carry a tad too much speed into a corner or wash wide in a safe fashion, but go anywhere near the throttle and it will bring the back end around in a way that's actually really controllable. You can drive this car on the nose or on the tail, whatever you like, and it's just the joy.
The Portofino M comes with a new five modalities, which lets you select from Wet – Comfort – Sport, Race and ESC off. The new race mode includes a new software map called Ferrari Dynamic Enhancer, which the company says makes the car safer and more controllable at the limit. But anyone brave enough to turn down their assistance will find a car that rewards your attempts to lean on your own skill.
There's actually a lot of feedback from the steering as well. I can feel when the front end is about to break traction, and that gives you so much confidence to drive this car on your terms. It's a little bit of movement in the body as well. It's not super stiff. It feels very fluid. So it's a nice car to thread along the road. It feels organic, it feels alive more than anything else. It also feels approachable. So many supercars out there these days are so fast, they feel almost terrifying to go anywhere near the limit. But in the Portofino M. He's quite cuddly. The nicest thing I can say about it is that it feels a bit like a big plush Amex fly, a big plus Amex vibe with bags of power. Oh. Oh, It's still a Ferrari, though. It's still a Ferrari and in a Ferrari. After a morning of spirited driving, typically you might want to visit somewhere fancy for an exotic lunch. But with the Portofino M being as approachable and as normal as a Ferrari can be, there's every reason to rediscover something more down to earth, more normal before drinking in the beauty of the Portofino M. And it is striking with a new front bumper, helping it stand out from the original Portofino, an air vent that now runs from the bumper to behind the front wheels and a huge rear diffuser that's been made possible thanks to the inclusion of petrol particulate filters, which make the exhaust so quiet that Ferrari has been able to delete the rear silencer inside. It's arguably more special than the Roma with a horizontally oriented dashboard plus a physical engine start button and rev counter options and never cheap on a Ferrari. And this example is no different. The carbon fiber steering wheel with LED lights costs £4,300. Carbon Fibre centre console 1600 pounds. Neck warmer, £2,000. Carbon cup holder 1400 pounds. And the Rosso Portofino paintwork costs an extra £7,100. But this is a Ferrari, and if you're even considering buying one, then those numbers shouldn't be too difficult to digest.
It's not always about going flat out in a Ferrari. Sometimes you just want to chill, take it easy and enjoy the road. And actually, that's where the Portofino M is best. It's ideal for people who just want to jump in and go for a drive not just by themselves, but with their friends. And you don't have to think twice about driving this car because it is so simple. The seats are comfortable. You can go on a long journey, on a short journey to the shops, to sweeping mall and b-road like this whenever you want. The suspension is comfortable. It has a bumpy road mode, so even if you go anywhere near potholes, it's not going to destroy your feelings. The tech is usable, it's got Apple CarPlay, it's got 360 degree cameras all around the car, so it's easy to fuck next to the Roma. This is the easiest Ferrari to daily and you will want to drive it daily. Gripes. Yeah, I've got a few. There's a lot of wind buffeting as you might be able to hear, with or without the roof. Sometimes it's hard to see what's on the screen as it's so reflective. And also, the exhaust noise is decent. But it's not amazing. But these are all minor, minor issues honestly.
There's no need to make a special trip to far flung regions of the globe or to a racetrack to get the most from this car. The North Devon coast, wild cliffs climbing from Emerald waters, rocky coves, sand dunes and beaches that stretch as far as the eye can see accessible to all and yet overlooked by so many. With the Portofino motor piccata, Ferrari has polished an existing gem. It's reminded us that rediscovery is as important as discovery, that there's nothing wrong with making the most of what we already have and allowing those treasures to shine bright once more.