A great concert of traditional Georgian music took place in Kutaisi, the second largest city in Caucasian Georgia. The important international cultural event, entitled "Imeretis Niavo" (the breeze of Imereti, a historic northwestern region and ancient Bagratid kingdom), was held at the National Theater (Professional State Drama) named after the famous actor and director Lado Meskhishvili.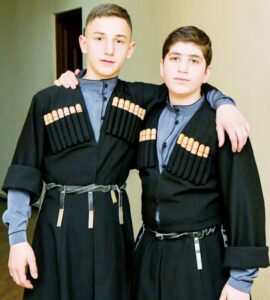 The best of the contemporary artistic selection took part in the concert: Studio Qartuli Xma (Georgian Voice) and Ensemble Erta (with artistic directors Beso Gogolashvili and Giorgi Dixhamidze), Ensemble Basiani, Ensemble Tbilisi, Salome Bakuradze, Lasha Glonti, Dato Londaridze and Natia Devdariani, Giorgi Mefisashvili, Tamta Khukhunashvili, Mimgere Rame Quartet. The participatory evening, conducted by Kote Mjavia, had a huge, enthusiastic and qualified participation of the public, and a great echo in the mass media, also given the difficult geopolitical situation of the region.
"From Georgia comes a strong and clear message, of identity and popular, of hope and peace. On the wings of music and song, of tradition and culture, the white biblical dove flies to bring peace among all peoples and nations. This was staged by young and very young Georgian Orthodox Christian patriots who performed in traditional dress. I would very much like to bring this show to Europe and America as well" said Lali Panchulidze, journalist of the Georgian national television Kartuli TV and president of ACIGEA, the international association that promotes Georgia in the world.
Source:

https://www.facebook.com/groups/379403760141628/?ref=share&mibextid=NSMWBT