So you finally want to come to Berlin and see what the hype is all about. Well, you are in the right place, because I'm going to share all the valuable insights I've learned during my last three years of living here as a local. Unlike all the other standard travel guides out there, I want to focus on providing you a healthy mix of activities that not only include must for tourists, but also some insider tips on how to spend your time in the city like the locals would. Even if you are unsure at this point if the city is worth a visit for you, make sure to keep watching because I can guarantee that you're going to discover some sides of the city that you really didn't expect. With tourism growing every year as of 2019, Berlin already ranks third in the list of the most visited European cities, only being outranked by London and Paris. This growth in popularity comes from a good reason. According to the popular Merthyr study that compares the quality of living in cities around the world, Berlin ranks among the top 15. The former Mayor of Berlin once titled The City as Poor but Sexy. With its growing economy and the rise as an international hub for startups in Europe, the poor part is definitely not true anymore.
The sexiness state of being a nightlife mecca for people all around the world and one of the top destinations for young Europeans looking for a free life with interesting job opportunities. This city has one cool feature that you won't find anywhere else in Europe its diversity. Wandering around one of the many hip neighbourhoods, chances are you will get to hear English more often than German experience food options that are as versatile as could be and find racism to be widely absent. Everyone is accepting each other regardless of how one looks, and you will notice that immediately after arriving here. But for now, enough with the praise and let's jump right into my travel tips with everything that you need to know about Berlin. Getting There. When coming to Berlin as an international visitor, chances are that you will arrive at one of the city's two airports, Berlin, Tegel or Berlin Schönefeld. Unfortunately, this will most likely not be the best experience of your stay because both of them are pretty outdated and operating at full capacity.
Also, the journey into the city is not going to be the most pleasant one because there's no convenient speed train connection yet. I would still recommend taking public transport though, because both of the airports are quite far outside the city and a taxi might cost you around 30 to €40 when a public transport ticket only costs around three. Up until this day, Berlin is still waiting for its new airport to be finished. But who knows when this is going to be getting around. Once you arrive at your destination, you will need some mode of transportation for all the exploring you want to do. If you come in the spring, summer or autumn, I highly recommend that you go for one of the plenty of bike sharing offers throughout the city. The most popular ones are next bike, little bike and electronic uber jump bikes. You simply download the respective app, sign up and then you get to go if you want to. You could also go for one of the thousands of electric scooters that are parked everywhere around the city with €1 per unlock plus $0.15 per minute. They are a little too expensive for constant use, though most popular services are here Lime and Cirque. If you have a European driver's license and a little bit of time for the registration process, I highly recommend the electric motorbikes called Coupe. This is not only the fastest and most convenient way to get pretty much anywhere, but it's also a lot of fun If you come in the winter or you don't want to write anything yourself, you have to depend on the public transport system. Uber or taxis. All of these work perfectly fine. I just prefer to be more flexible by using one of the transportation modes that I just mentioned. Where to Stay and Berlin's Best Neighbourhoods. Once you are here, you most likely will need a place to spend your nights unless you want to join the relatively high amount of homeless people somewhere on the streets.
Even though public transport in Berlin is decent, the metropolitan area is really vast and getting somewhere can easily take up 45 minutes of your time depending on where you want to go. Therefore, I recommend choosing the location of your hotel or Airbnb wisely, not only to save time while exploring, but also to have good food choices right in your neighbourhood. Some people say Berlin is a city that consists of multiple subsidies, and in many ways this is true. Every neighbourhood looks different, has different demographics, and attracts a variety of people. When we are looking into the options for choosing a place to stay, we can't avoid doing a quick jump. Back in Berlin's history and the former separation of Germany, as most of you will know already after World War Two, Germany was split among the allied forces and divided into the democratic West Germany and the socialist East Germany, also known as DDR. Berlin happened to be located entirely in East Germany, yet it was decided to make West Berlin part of the democratic West Germany, where East Berlin belonged to the socialist DDR, as people of East Germany were not allowed to leave the country and had to be prevented from crossing over to West Berlin.
The infamous Berlin Wall was built a huge line of concrete wall that spread over 160 kilometres directly throughout the city. Nowadays, most of the wall is torn down and Berlin is one big city again. Yet you can still feel and see some differences when comparing East to West Berlin after. Reunification. Many parts of East Berlin that used to be working class. We are gaining popularity among young people and were transformed into what one another hippest neighborhoods with a great mix of culture, restaurants and new buildings being created everywhere. Unfortunately, this comes at a cost. Rental prices went up over 200% in the last five years alone, and for many Berliners, it's becoming unaffordable to live in these neighborhoods. But what about West Berlin? Well, from its architecture and buildings, it mostly stayed the same over the last decades. And there are fewer things that have changed over the years. This goes for the architecture as much as for the people. Typically, you will find older generations of middle class or upper middle class Germans still living in those areas, making them one of the few places around the city where it's possible to actually bump into some real Berliners. Another popular area of former West Berlin certainly is Kreuzberg being the first neighborhood in Berlin that got gentrified by hipsters years ago. Nowadays its best days are over and you will find more interesting things to see and places to eat in some other East Berlin neighborhoods.
The most popular one certainly are Mr. Prenzlauer Berg and Friedrich Cine, each of them being very different in their character and therefore attracting different crowds. Metal, which means Central and German, could be considered the centre of Berlin with its impressive government area. A lot of museums and upscale offers and residential buildings, as well as high class hotels. You won't find too many people actually living here because it's just not affordable for most of the locals. Many of Berlin's main attractions can be found here, though, so you will see a lot of tourists around some of the city's most successful companies, as well as many tech startups, have their offices here, which means that locals from all across Berlin are commuting to meter every day, making it a busy place during the daytime. This image shifts during the nighttime because most of the people commute back to the outer neighborhoods and there are not a lot of great restaurants or bars around this area. I would still recommend staying here if you want to be central close to tourist attractions and be able to reach every neighborhood of the city fairly quickly. Next up is free design. This, for my working class neighborhood, is quickly transformed into one of the go to spots for young tourists and people that come here for the nightlife. Long considered to be the epicenter of anti-establishment and a spot for people that want to look and be different. Even this area couldn't stop the ongoing gentrification. And you will see more and more upscale apartment buildings as well as rents rising, pushing out the locals that have called this place their home for decades. Free design is still one of my favorite areas, though, because you see a very interesting mix of people here.
There are plenty of amazing and very affordable restaurants, and many of Berlin's clubs are located in this neighborhood. I'm going to tell you more about Berlin's nightlife in a bit. The other very popular area of East Berlin that I recommend is Prenzlauer Berg. It has the reputation of being home to all the young yuppie families that live here, and there's a little organic enclave. Even though the neighborhood does indeed have the highest density of organic supermarkets in Berlin, this cliché is only partly true because nowadays you will also find a healthy mix of different people here, comparing it to the wider areas of redesign. This neighborhood is a little more laid back and upscale, though you will still find tons of amazing restaurants around that are decently priced and you will have the famous Mauer Park right around the corner that is bursting with life each Sunday when a lot of street artists go there to perform. So in which areas should you look for your accommodation? As a conclusion, I would recommend looking in middle and lower back of redesign because they are my favorites. Good value for money offer. For instance a one bedroom hotel in Mita Amo by Amano in Mita or Holiday Inn in Prenzlauer Berg. They are all available for less than 100 per night usually, and if you consider booking one of them, you will find the links in the description of this video. Next up, I'm going to tell you a little bit more about the typical sites and attractions that are worth visiting. And I will leave out the ones that could be skipped, in my opinion. Keep in mind that this is my personal opinion as a local and there might be some things that you still want to check out, even though I didn't cover them here. Attractions Visiting Berlin with its rich history for the first time, you will probably not get around without visiting a few of the historical sites the city has to offer. I only want to cover these shortly because there's plenty of information about them on the internet already to have you covered. I'm still going to name the places that are worth seeing in my opinion. East Side Gallery. This remaining part of the Berlin Wall was painted by several street artists and has some pretty amazing artwork to offer. No matter if you're a local or a tourist, this one is definitely a must see. ZM Island, the famous museum island and the area around it is home to some of the most impressive architecture you will find in the city. On top of that, you will find a few world class museums there, especially in summer. This is a nice area to go for a walk or bike ride. Government District. The heart of Berlin's government district is the Reichstag building with its iconic glass dome. If you want to, you can to the right. Talk and see the roof terrace, which affords fantastic views over the city. Just remember to register in advance. Checkpoint Charlie Friedrichstrasse. The entrance marked what used to be the former crossing from east to West Berlin is now one of the most photographed places in the city. Every day they are still soldiers dressed in traditional American uniforms, standing there to take pictures with the tourists. Right behind it starts the Strasser entered and unmarked, one of the most upscale areas of the city with a lot of expensive designer shops and great architecture.
My suggestion? Take the two kilometer walk from Checkpoint Charlie down to Friedrichstrasse station for some window shopping and people watching. Potsdamer Platz, the Holocaust Memorial and Brandenburg Gate are being connected in walking distance. These three locations are must see for every tourist and provide a great contrast between Germany's history and the modern day office life. With all the high rise buildings at Potsdamer Platz. Right next to it, you will find the Mall of Berlin, which was just completed a few years ago, and it's not the biggest shopping mall in the city. So if you're down for some standard shopping mall experience with replaceable shops that you might as well find in any other European city. Feel free to stop by for a quick visit over there. How cash are marked. Also one of my favorite areas in Central Berlin, the Akasha Markt, offers the iconic hackers who offer a small maze of impressive backyards connected with each other and permanently open to the public. Also, you will find some decent restaurants around this area, especially when you walk a few hundred metres further to rose and taller plots. Fancy Tormund Alexanderplatz. The fancy tom or TV tower is the tallest landmark of the city. For some reasons, the surrounding Alexanderplatz has also been one of the biggest tourist magnets for decades. This is not really understandable from a locals perspective because it's considered to be one of the ugliest areas in Berlin with tons of tourist traps and the highest amount of crime in the city. So if you do not desperately want to see the TV tower, you can easily skip this area entirely. Insider Tips. Now that I have given you an overview of the standard touristic sites, I want to tell you about a few great places that locals usually go to and which you won't find every travel guide.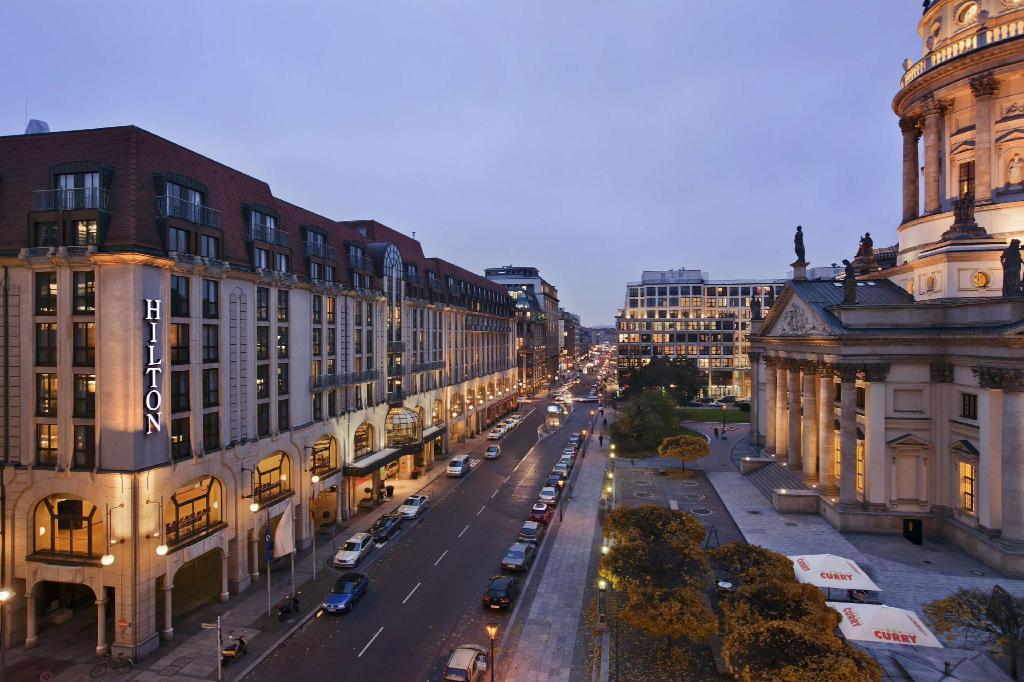 Before I do that, I quickly want to ask you for one more thing. If you enjoyed this video so far, you would support me massively by just quickly hitting the like button. It will help promote this video so that more people can see it. We are going to start my tips with a rooftop bar that is certainly different from any other rooftop bar that you will find in any other cities. Konkani in North. Situated on top of a parking lot and no icon, this place has more to offer than just cool drinks. It's a little urban utopia with a small rooftop garden, delicious vegan food and live music on certain events, on warm and sunny days. You have to expect a queue from 5 p.m. onwards though, so try to come there early. What's marked the newly built heights marked is an extension to the famous electro club Qatar Blue, and unlike the club, there won't be any bouncers rejecting you. It's a smart, creative village built directly along the banks of the River Spree, which is aimed to be an urban retreat. And everyone is welcome.
There are multiple bars and small food stands, but you could also just bring your own food and sit on one of the plenty of benches right next to the river box, plus the books hogging the plots and the area around it is one of the nicest areas in free design, with plenty of amazing restaurants with lots of vegan and vegetarian options. But don't worry, even as a meat eater, you will find plenty of choices. I can definitely recommend this area to have a nice dinner with your friends or family while doing some people watching. Kirstie Alley. What The Box is for Design. The custard finale is for Prenzlauer Berg, delicious food, lots of things going on on the streets and interesting people to look at. Farmers Market at Mareeba with around 150 different vendors, this market is an attraction for both tourists and locals, especially if you're looking to buy fresh foods or some Turkish delights. You will find plenty of options there that are not only tasty but also very affordable. The market is open every weekday from Tuesday to Friday, from 11 a.m. to 6:30 p.m.. After you did some shopping, you can go ahead and explore the area around the canal, which is situated right next to the market, Bicheno and Ngukurr. If you come to Berlin on one of the cold, rainy days, you might want to do something inside. Why not check out one of the oldest cinemas in Berlin that has kept its charm and certainly is unlike all the standard multiplex cinemas you will find elsewhere.
The theatre has all of its screenings in English. The halls are small and the atmosphere is welcoming. This place is one of the cinema gems in Berlin. Exhibitions and light installations in Kraftwerk, Berlin, the Kraftwerk, Berlin, which used to be a power plant until 1997, is now used as a location for huge light and sound installations by different artists. The exhibitions typically switch every one or two months, and there is always something to see. Once you are inside, you can find a seat on the floor and let the music and lights sink fully into you. Get a beer at one of the many spaces and all of. Locals meet up at a party for an after work beer. Spirits are small shops that mostly set drinks, cigarettes and some snacks, especially in the summer. They are popular meeting areas for people around the neighbourhood. You will find lots of busy runs around the box plots in free design. So next up, I want to talk about two important aspects of the city that you shouldn't miss when you are here. Nightlife and food. First off, nightlife. Around one third of the tourists come to Berlin just for that. And the nightlife economy alone can make revenue that goes into the billions. The techno scene in Berlin is just huge and is considered to be the best in the world. Nowhere else will you find as much freedom, great locations and amazing DJs as in this city. The topic of clubbing is just too complex to be all covered in this guide, but I will release a separate video that covers everything you need to know about getting into Berlin's clubs. Which ones are the best? What to wear, for which club, and when to go to stay updated. Make sure to subscribe and hit the notification bar for this video right here. I just want to quickly tell you what the three biggest clubs are city for Skater Blow and of course, the internationally known institution behind. Each of them is great by itself, but delivers a completely different experience. I would recommend Qatar for Fridays, Sisyphus for Saturdays and back end for Sundays, but Berghain will be the hardest to get into. So if you are unsure about the door policies, you might want to try for us on your first visit. Be aware that in almost every club in Berlin it's strongly prohibited to take any photos, and the waiting time to get in during peak times may vary from 1 to 3 hours food. Now let's talk about food.
Due to its intersectionality, Berlin is a food mecca for all different kinds of cuisines. You are pretty much find anything you could imagine from Japanese, Vietnamese, Mexican Arabian to Korean or Lebanese and more. Also, the amount of vegans and vegetarians in the city is huge, so be sure to find meatless alternatives almost everywhere. On top of that, because there is such a high competition everywhere, food prices are still decent. You will probably not pay more than €10 for a very good meal, sometimes even including drinks. It's impossible to list all the good restaurants that I want to recommend. So I'm just going to tell you a few of my favorites, including one that serves the famous local dish, the Berlin Currywurst, Ramen, Hakka, Ramen and Fried Chicken and Prenzlauer Berg Pokeball. Malabar Pokeball. Several branches around the city. Vegan Vietnamese. Soy and meat Kebab and Halloumi Wrap. Mustafa's music came up in Friday selling Banh mi banh mi stable in metal pizza. Zola in Kreuzberg, Korean Kimchi Princess in Kreuzberg Indian India Club in Berlin. Better Dim sum Lekker Song in Prenzlauer Berg. And for the Berlin Classic Currywurst and Fries Best Borscht Currywurst in the Mall of Berlin. I really hope you like this guide and that you got some new ideas on what to do on your next visit to Berlin.